Philip Hilton - Shamanic Services
Pachakuti Mesa Healing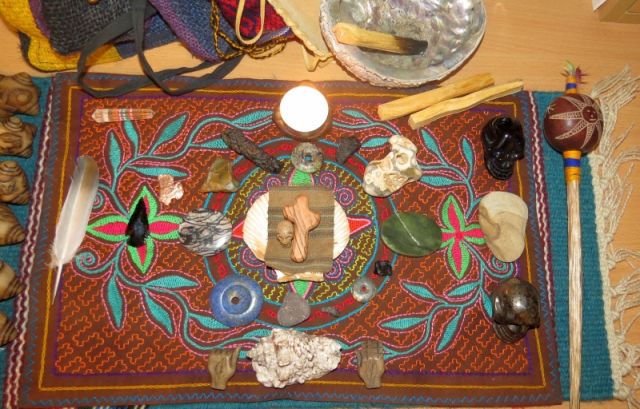 Pachakuti Mesa Healing Session

I am a Pa chakuti Mesa Carrier and as such can offer you a very unique healing experience by using my own healing stones and sacred objects which are connected to spirit via the Mesa.

The mesa is a medicine bundle containing a collection of objects, which are all energised for healing work. Each piece of the Mesa has been gifted by spirit for use within the cohesive whole which is the Mesa. A Mesa is like a web, the cloth offering a foundation on which the stones, shells and other objects stand. It is a living breathing real-world map of the three worlds of the shaman. And, it is through this that all healing can and does take place. It is a supremely powerful form of energetic healing.

Pachakuti means "world reversal" and refers to the time of transformation we are living now. A mesa is an altar for self-exploration, transformation and personal growth in which we create a new paradigm of one's relation to the Self and the Universe. This tradition, in all its richness, is an evolving practice of inner and outer activities that restore balance and harmony to our relationships with All That Is.
Don Oscar Miro-Quesada Solevo is the originator of the Pachakuti Mesa Tradition of cross-cultural shamanism and the visionary founder of The Heart of the Healer organization (THOTH). Through his teachers, don Celso Rojas Palomino and don Benito Corihuamán Vargas, the ancient lineage of this shamanic tradition can be traced back to its origins over 5,000 years ago.

I am of the lineage of Don Oscar and as such am considered his apprentice.

During each session I will set up the altar, which is the Pachkuti Mesa, and having opened up to spirit, will initiate healing energies via my guides.

Each object is a healed wound, in fact in my case even the Mesa cloth reflects this, as being hand made in Peru by a lady called Pilar, it has a small imperfection, which makes it perfect for a wounded healer such as myself.

Each Session will be uniquely crafted to your own needs, this can be healing for physical, mental or emotional life challenges, or even help and healing to enable the integration of all three.

Depending on your own healing story and need, so I will be drawn to those particular medicine objects on the Mesa. No two sessions are even the same.

The fee for this service is £50

For a full and complete healing session using the Mesa, contact me now hiltonphilip85@gmail.com